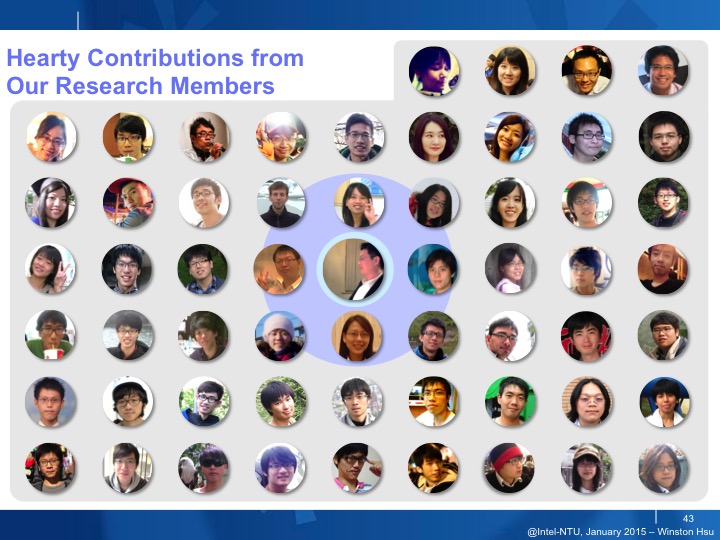 The group photo of all the RA/student members since 2007, collected in January 2015 for a keynote talk and to acknowledge the huge contributions for our group research.
Students
We keep recruiting graduate students (master or PhD) for the exciting projects of both great theoretical interests and strong industrial demands. Students have delivered brilliant results. See our news or publication sections for more details.
We, as MiRA (or "R") group, founded in summer 2007, affiliate with faculties and students in CMLab, where we share research resources and obligations. Specifically, our group focus more on advanced researches regarding multimedia semantic analysis, indexing, retrieval, etc. We welcome students who have strong motivations, enjoy challenges, appreciate novel ideas, and aim at quality publications. We will have frequent cross-site projects with research institutions abroad and project presentations (in English) to international researchers.
PhD Students
Sebastian Agethen
Wen-Yu Lee (李文瑜) [Postdoc, Univ. of Tokyo]
Tzu-Hsuan Chiu [CFO, Startup]
Kuan-Ting Chen [Postdoc, University of Rochester]
Liang-Chi Hsieh [Data Scientist, IBM Spark Technology Center, USA]
Yan-Ying Chen [Research Scientist, FX Palo Alto Laboratory, USA]
Yen-Liang Lin [Research Scientist, GE Global Research, USA]
Yi-Hsuan Yang (GICE PhD student) [Research Fellow, Academia Sinica]
Master Students
Year 2012

葉俊言 [

Synology

]
林家宏 [MediaTek]
蔡江漁 [Garmin]
嘉慶曹 [

HTC

]
黃正宇 [Quanta]
許永健 [MediaTek]
蘇昱銓 [PhD Student, UT Austin]

Year 2011
Year 2010

陳伯村 [

PhD student,

Univ. of Maryland

]
黃彥達 [

Chunghwa Telecom

]
吳冠龍 [

Yahoo!

]
雷禹恆 [

Chunghwa Telecom

]
曾開瑜 [Altek]

Year 2009

Yue-Ming Hsu (許裕明) [Appier]
An-Jung Cheng (鄭安容)

[

Chunghwa Telecom

]
Fang-Err Lin (林芳而) [Garmin]
Ming-Kuang Tsai (蔡旻光) [Garmin]
Yo-Chia Dai (戴佑家) [Quanta Research Institute]

Year 2008

Libby Wang (王聖媛) [MediaTek]
Paula Tseng (曾柏儂) [RealTek]
Yin-Hsi Kuo (郭盈希) [NTU PhD]
Chien-Hsing Chiang (江建興) [

Yahoo!

]

Year 2007

Undergraduate Students
Year 2011
Year 2010

陳示家
李哲君
朱冠宇
蘇昱銓
飯田來夢

Year 2009
Year 2008

Suming Chen (summer/winter intern, Berkeley EECS, admitted for UCLA CS PhD Program)
An-Jung Cheng 鄭安容)
Fang-Err Lin (林芳而)
Ming-Guang Tsai (蔡旻光)
Ken-Fou Yeh ( 葉耿甫)
group activities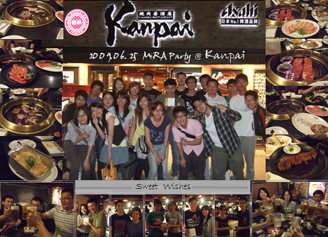 MiRA Party@Kanpai, Taipei, June 25, 2009. Celebrate for our hard-workding achievements and best wishes to the first-time master graduates.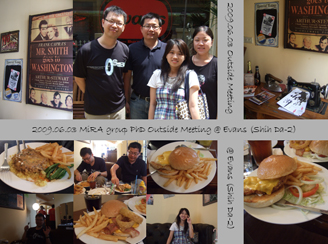 MiRA PhD Meeting@Evans Burger, Taipei, June 3, 2009.
MiRA Hiking@Yangmingshan, Taipei, March 23, 2009.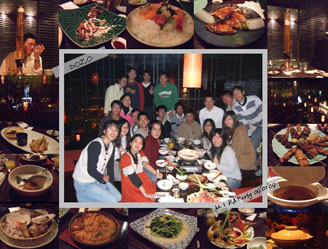 MiRA Party@DOZO, Taipei, January 09, 2009.